DEJA RE-VU
Pop Culture Classics' Recommended CDs, DVDs and Books
By Paul Freeman


DVDs


"AGATHA CHRISTIE'S WITNESS FOR THE PROSECUTION"
There have been several filmed adaptations of Agatha Christie's short story "Witness For The Prosecution," starting with 1949's BBC production. The most famous is Billy Wilder's 1957 movie starring Tyrone Power, Marlene Dietrich and Charles Laughton. But this new version, a two-part British TV presentation, now available on DVD and Blu-Ray from Acorn, proves to be riveting fare. The courtroom mystery/drama is filled with twists, turns, thrills and psychological intrigue. The cast is sensational. Toby Jones ("Captain America," TV's ""Sherlock" and The Dectorists") excels in the Laughton role, that of a barrister who defends a young man (Billy Howle) accused of a brutal murder. Kim Cattrall is dazzling as a wealthy British widow. Also excellent are Monica Dolan and Andrea Riseborough ("Birdman"). Screenwriter Sarah Phelps (who adapted Christie's "Then There Were None" for BBC/Acorn) based the script solely on the original short story, not familiarizing herself with the previous films or stage play. So this tense and tantalizing new production offers fresh surprises.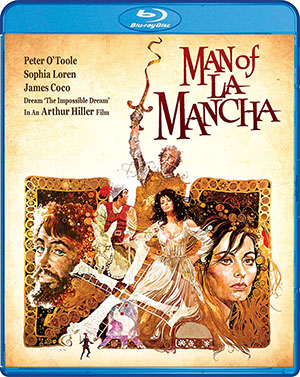 "MAN OF LA MANCHA"
"Man of La Mancha" tells the story of author Miguel de Cervantes. Imprisoned during the Spanish Inquisition, he regales his fellow inmates with the tale of the ever-tilting-at-windmills Don Quixote. The underrated big-screen adaptation of the immortal, inspiring musical is now available on Blu-Ray, courtesy of Shout! Factory. At the time of its 1972 release, much of the criticism focused on star Peter O'Toole's singing ability - or lack thereof. But O'Toole, like Richard Harris and Rex Harrison, can act a song in ways that effectively communicate everything necessary. And O'Toole's charisma brings a special magnetism to the Don Quixote/Cervantes character. Sophia Loren exudes all the necessary earthiness required for the Dulcinea/Aldonza character. And James Coco provides comic relief and poignancy as Sancho Panza. There are strong supporting turns from such greats as Ian Richardson, Harry Andrews and Brian Blessed. Director Arthur Hiller helps the cast get to the heart of the story. "The Impossible Dream," which embodies the uplifting theme of the musical, is the one song that became a standard. But there are other memorable numbers, including the title tune, "It's All The Same," sung by Loren, and Blessed's number "Little Bird, Little Bird." Bonus features include a vintage featurette.
"FOR THE LOVE OF SPOCK"
Adam Nimoy began collaborating with his father on a Mr. Spock documentary four months before the legendary actor/director's passing. After Leonard Nimoy departed from this dimension, the film broadened its focus to include all aspects of the man, his life and career. Now available on DVD from MVD/Filmrise, it's a compelling look at a performer who, like one of his idols, Lon Chaney, was a man of a thousand faces. In the early days, he played everything from Native Americans to a street gang leader turned pro boxer. There are wonderful clips of Nimoy on TV shows ranging from "Gunsmoke" to "Mission: Impossible." But it's the Spock character that has entranced big and little screen viewers for half a century. What could have been a one-note role became an incredibly rich and complicated portrayal in the hands of the intellectually and artistically advanced Nimoy. And the "Star Trek" phenomenon changed his life, as well as those of his family members. The film also delves into Nimoy's personal life and struggles (including the battle with alcohol), as the would-be character actor adapted to becoming a cultural icon. The documentary touches upon the fans and conventions and also covers Nimoy's pop-folk singing efforts and his much more impressive stage work, film directing and photography. Among those appearing on camera to express their appreciation for Spock and Leonard Nimoy are his son Adam, William Shatner, Nichelle Nichols, George Takei, Walter Koenig, JJ Abrams, Jim Parsons, Mayim Bialik, Jason Alexander, Neil deGrasse Tyson and members of the new "Star Trek" movie franchise. Simon Pegg's comments are particularly astute. Briskly and colorfully assembled by Adam Nimoy, the film is a warm and fitting tribute to an extraordinary man. There are some great extras on the DVD, including "Star Trek" trivia with Jason Alexander, commentary, Tribeca filmmakers Q&A, on-set with "Big Bang Theory, and a charming, nostalgic local public television special, "Leonard Nimoy's Boston," in which the actor visits his hometown.
"THE VAMPIRE BAT"
Film Detective has issued a special restored version of the 1933 horror classic, "The Vampire Bat." There have been a myriad of inferior copies floating around. So it's exciting to view the film in all of its original, crystal clear, black-and-white glory. In this atmospheric mystery, murders are being committed. There are strange marks on the victims' necks. And their blood has been drained. Could it be… vampires!? The first-rate cast includes the fabulous Fay Wray, plus Lionel Atwill, Melvyn Douglas and Dwight "Renfield" Frye. Bonus features include a new Melvyn Douglas featurette (with warm reminiscing by his son) and audio commentary track with film historian Sam Sherman.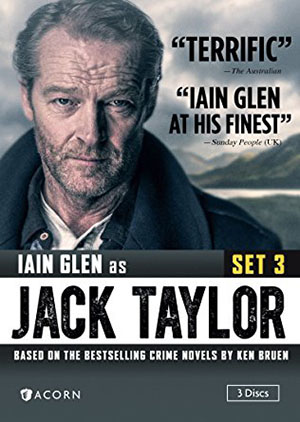 "JACK TAYLOR" - SET 3
You probably know Iain Glen as Jorah Mormont on "Game of Thrones," Sir Richard Carlisle on "Downton Abbey" and Father Octavian on "Doctor Who." As memorable as the Scottish actor is in those roles, he's at his most layered and compelling as the hard-drinking, defiantly old-fashioned, Irish cop-turned-private-investigator Jack Taylor. Glen imbues the character with toughness, charm and a balance of humor and melancholy. He's both intensely fiery and classically cool in the role. This latest set of three feature-length crime dramas finds him in fine form again. In "Blood Cross," a man is found crucified. "Nemesis" centers on the kidnapping of an unsettled young man who has wealthy parents. "In Purgatory" brings Taylor and Officer Kate Noonan (Siobhan O'Kelly), his loyal former colleague from the police force, into the case of a murdered intern who worked at the Irish branch of a big American game software company. Throughout, it's Glen's rugged appeal that makes this series irresistible.
JUDY COLLINS - "A LOVE LETTER TO STEPHEN SONDHEIM"
One of our greatest vocalists interpreting the works of one of our greatest songwriters. This is truly an unforgettable concert. Filmed in May, 2016, at a Denver concert hall, the event offers one musical thrill after another. Of course, Collins' signature number, "Send in the Clowns" is here, along with other widely remembered Sondheim tunes like "I'm Still Here." Collins, still blessed with a crystalline voice, finds just the right melodic and lyrical nuances in Sondheim's works. She weaves stories about the Broadway compositions, thus enhancing the viewer's appreciation. Collins has again helped to illuminate Sondheim's genius. Both artists deserve our undying love.

CDs


BETTY BUCKLEY - "STORY SONGS"
Thank heavens Broadway, TV and film star Betty Buckley decided to record a double-disc rendition of this show, which earned her rave reviews in the cabaret version presented in New York and California. Buckley, a magnificent storyteller, offers vocals that prove riveting. Her beautiful and expressive voice dramatically brings out all of the emotional power of a wonderfully eclectic group of classic songs. Among the stunners are Leonard Cohen's "Bird On a Wire" and Buckley's deeply moving performance of Abbey Lincoln's "Throw It Away." Also included are marvelous numbers penned by Rodgers & Hammerstein, Stephen Schwartz, Joe Iconis, Jason Robert Brown, Peter Gabriel, Emmylou Harris, Joni Mitchell, Sting, the Gershwins and Stephen Sondheim. The strength of the singer's artistry and personality weaves the diverse material together into a seamlessly sublime evening. Buckley also offers memorable anecdotes about such greats as Elaine Stritch and songwriter Stephen Bruton. The superlative quartet backing Ms. Buckley is led by her longtime accompanist, jazz pianist Christian Jacob. This new album is the result of a performer who has spent decades honing her craft. And the listener reaps the rewards.
CHUCK PROPHET - "BOBBY FULLER DIED FOR YOUR SINS"
If you thought real rock 'n' roll had died in some long ago plane crash, this album will make you think ago. Bay Area singer-songwriter Prophet exudes the spirit. There's a raw, Stonesy drive. And the wit, bite and edge recall the early Elvis (Costello, that is.) There's a touch of soul in Prophet's voice, a fire in his guitar work and an illuminating intelligence in his lyrics. The title track references 60s tragic rock star Bobby Fuller ("I Fought The Law"), who died under mysterious circumstances. Other outstanding tracks include "Your Skin," "Killing Machine," "Bad Year for Rock and Roll" (lamenting the loss of such heroes as Davie Bowie), "Jesus Was a Social Drinker," "Post-War Cinematic Dead Man Blues" (which displays a Stealers Wheel catchiness), the reflective "Open Up Your Heart" and "In the Mausoleum," a tribute to the late Suicide vocalist Alan Vega. Prophet moves listeners on the intense closing track, "Alex Nieto," about a police shooting in San Francisco. Despite the darkness in much of the subject matter, there's a rockin' joy ithroughout Prophet's music.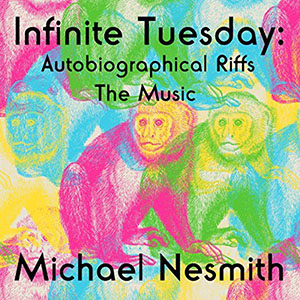 MICHAEL NESMITH - "INFINITE TUESDAY: AUTOBIOGRAPHICAL RIFFS - (THE MUSIC)"
Timed to coincide with the publication of his memoir, this 14-track Rhino Records album spans Michael Nesmith's 50-plus-year recording career. The compilation reveals the evolution of a great artist - a great songwriter and a compelling vocalist. It begins with a clever little anti-war, folk-rock ditty, "The New Recruit," which he recorded under the name Michael Blessing. Then there are his hard-to-resist Monkees tunes - "Papa Gene's Blues," "The Girl I Knew Somewhere" and the later "Listen to the Band." His own version of "Different Drum" turned into a hit by Linda Ronstadt with The Stone Poneys, proves to be charmingly breezy. He quickly established himself as a solo artist with "Joanne." Here you'll find other beauties, including "Silver Moon," recorded with his First National Band, which included the spectacular O.J. "Red Rhodes" on pedal steel. "Some of Shelly's Blues" remains one of his finest tunes. In the late 60s and early 70s, Papa Nez was helping to pave the way for country-rock. But he continued to grow and expand as a singer-songwriter. The ambitious "Opening Theme: Life, the Unsuspecting Captive," comes from his 1974 concept album, "The Prison." And "Rio" and "Cruisin'" took him into new musical territory, stylistically. Intricate and exquisite productions like "Light," followed. "Laugh Kills Lonesome" with its Latin rhythms and western themes, is intoxicating. The most recent track, 2006's "Rays," is an epic, cosmic pop number. And Nesmith is a cosmic cowboy, a witty, intellectual maverick with a down-home charm. The album displays his vast talent. And many of his best songs are missing. Let's hope there's a Volume 2!
SARAH McKENZIE - "PARIS IN THE RAIN"
The vocalist/pianist/composer/arranger from Melbourne, Australia delivers a delightful collection of tunes. She brings her own unique charm to familiar numbers like "Tea For Two," Richard Rodgers & Lorenz Hart's ' "Little Girl Blue," Cy Coleman & Carolyn Leigh's "When in Rome," Rube Bloom & Johnny Mercer's "Day In, Day Out" and Antonio Carlos Jobim's "Triste." The Gershwins'"Embraceable You," enhanced by silky guitar work, will melt your heart. There's a jazzy breeziness to the Estelle Levitt/Kenny Rankin tune, "In the Name of Love." There are also several strong McKenzie originals, including the title track, as well as "Onwards and Upwards," which allows the backing musicians to swing merrily. Her lilting ballad "Don't Be a Fool" is an instant classic. McKenzie also performs Johnny Mercer's "I'm Old-Fashioned" and there's a nostalgic romantic allure to the whole album. And the artist adds a sweetness, sincerity and freshness that make this a very appealing set.
"CHARLIE WATTS MEETS THE DANISH RADIO BIG BAND"
Charlie Watts is best known as one of the best drummers in the history of rock. But the former Rolling Stone is also a fantastic jazz drummer. His heart has always been in the big band genre. And now there's a new live album, released by Impulse/Verve that combines both areas of his career. It captures a 2010 concert in Copenhagen that united Watts and the Danish Radio Big Band and featured several jazzy arrangements of Stones tunes - "(I Can't Get No) Satisfaction" (here simply titled "Faction"), "Paint It Black" and "You Can't Always Get What You Want". The classic melodies take on entirely new sensibilities with their Latin, soul and funk injections. The album opens with the two-part, undulating and enthralling "Elvin Suite," written by Watts and fellow rock drum great Jim Keltner. Throughout, Watts doesn't try to dominate the music, but establishes himself as the strong, surging spine of the dynamic sound.
KADHJA BONET - "THE VISITOR"
Kadhja Bonet's music transcends time. There are retro pop, jazz, folk and soul influences. Yet it seems very contemporary. And sometimes even futuristic. Her sweet, delicate, lovely voice and intricate, poetic songwriting are both quite unique. There's a lush warmth to "Gramma Honey," a gorgeous track that is complemented by just a trace of haunting strangeness. Other gems here include "Fairweather Friend," "Nobody Other," "Honeycomb" and the title track. Bonet has also done a beautiful job on the arrangements, subtly weaving in her flute and guitar, as well as enhancements from organ, strings, synths, harp, bass, sax and drums. This is an artful, atmospheric album that captivates more and more, each time you hear it.
MACY BLACKMAN & THE MIGHTY FINES - "SHOORAH SHOORAH - THE SONGS OF IRMA THOMAS & ALLEN TOUSSAINT"
Macy Blackman pianist/vocalist/guitarist Macy Blackman, teamed with his top-notch band The Mighty Fines (including saxophonist/vocalist Nancy Wright), pays tribute to the songs of Allen Toussaint. Blackman, who powerfully preserves the enthralling sound of 50s New Orleans blues and R&B, is the perfect man to interpret Toussaint's brilliantly crafted tunes, among them, "Working in the Coal Mine," "Shoorah Shoorah," "Look Up" and "Holy Cow." The album also features numbers associated with Toussaint's soul queen, Irma Thomas. It all adds up to a rousing good time.
RUTHIE FOSTER - "JOY COMES BACK"
With a voice that's strong, sure and honest, Ruthie Foster puts her stamp on a wide range of material. She seamlessly blends blues, rock, Americana and R&B influences. The rootsy "Working Woman," penned by Grace Pettis, is packed with soul. Foster brings her own sensitive feel to interpretations of Black Sabbath's "War Pigs," Stevie Wonder's "Loving You Is Sweeter," Mississippi John Hurt's "Richland Woman's Blues" and country star Chris Stapleton's "What Are You Listening To?" Her own composition, "Open Sky," breezes along on an island rhythm. Derek Trucks, on slide guitar, is among the guests on the album. But it's Foster's show and she makes the most of it.
COLIN HAY - "FIERCE MERCY"
Colin Hay, frontman of Men at Work, obviously worked very diligently to craft this brilliant and endearing new solo album, his 13th since 1987. Here, he captures a wide range of moods. There's a disarming gentleness to his singing and songwriting. "Come Tumblin' Down," with its engaging energy, opens the album. It's followed by the beauties "Secret Love," "The Best in Me" and "A Thousand Million Reasons." "Two Friends" is equally lovely. Hay stirs profound emotions on "Frozen Fields of Snow," which touches upon the mindset of a returning war vet, and "She Was the Love of Mine," in which he copes with the loss of his mother. The folk-rock-pop takes a hip-hop turn on "I'm Walking Here," which features guests Deploi and Swift. Hay's music is consistently moving and memorable. It comes from the heart and will tug at the heartstrings of every listener. Let's hope Hay's keeps working for decades to come.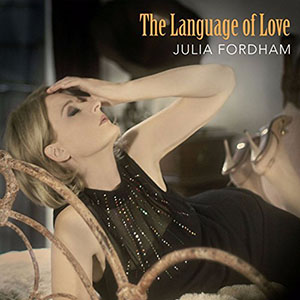 JULIA FORDHAM - "THE LANGUAGE OF LOVE"
Wow! Julia Fordham's acoustic jazz take on classic songs is breathtakingly beautiful. Material ranges from Henry Mancini/Johnny Mercer to Lennon/McCartney. Arrangements are tasteful and tasty. And in every instance, Fordham's deliciously distinctive voice is supple, sensitive and sensuous. She enhances the magic of every melody and the elegance of each lyric. Fordham completely transforms many of the tunes, delivering a swinging version of Blondie's "Call Me" and serves up a soft, samba take on Eurythmics' "Who's That Girl." Fordham's rendition of "Eleanor Rigby" proves to be particularly poignant. Her "Moon River" glistens in haunting fashion. Among the other captivating interpretations here are "10cc's "I'm Not in Love," Sting's "Fragile," Gilbert O'Sullivan's "Alone Again (Naturally)," Janis Ian's "At Seventeen" and Stevie Wonder's "Sir Duke." Fordham's own compositions, "Happy Ever After" and "The Morning After (The Night With You"), the latter co-written with Grant Mitchell, definitely hold their own among some of the greatest pop songs ever written. This is an album to cherish.
SHERYL CROW - "BE MYSELF"
After veering, pleasingly, towards country and Memphis soul on recent albums, Crow returns with a terrific set of folk-rock-pop tunes, her forte, seasoned with elements of those other genres. The heartbreaker "Halfway There" brims with soulfulness. "Long Way Back" is a potent country-flavored power ballad. The title track is catchy and driving. Other winning numbers include "Love Will Save The Day," "Alone in the Dark. ' Crow's songs are as strong as ever, etching their way into the mind during first listening and achieving a deeper connection with each repeated play. Her melodies have irresistible hooks and the lyrics are sharp and perceptive. Her social conscience is evident on this album, especially on the blues-rocker "A Heartbeat Away," (with a Doyle Bramhall II guitar solo). Anger and pain make themselves known. But Crow's sense of musical joy prevails. There's a sense on this album that Crow, now in her 50s, doesn't feel a need to prove anything. She's just having fun making her kind of music, her way. And that's great news for listeners.
JAMES EHNES- "MOZART: THE COMPLETE VIOLIN CONCERTOS"
Kudos to Onyx Classics for bringing back this marvelous work, which was recorded for CBC Records in 2006. With sumptuous support from the Mozart Anniversary Orchestra, Canadian violinist James Ehnes conjures a magical aura of romance. His playing is exquisite - elegantly nuanced, with a warm, sweet, inviting tone. He imbues the Mozart compositions with a lovely lightness and a pleasing purity. Ehnes brings both the delicacy and passion forth from the flowing concertos. This two-disc set belongs in the collection of every classical music connoisseur.
THE CREATION - "ACTION PAINTING"
If you're not familiar with the British Invasion band The Creation, you're not alone. Their existence spanned only from 1966 to 1968. And in the U.K., they only cracked the Top 40 once, with the song "Painter Man." They didn't even come that close to a hit in the U.S. But over the years, the band, which embodies all the energy and spirit of the era, gained cult status. Now the archival record label Numero Group has released the ultimate package of The Creation's music. It's two brilliance-packed CDs, plus a handsome little, hardcover, photo-filled book. Irresistible original tracks include "How Does It Feel to Feel," Biff Bang Pow," "Making Time," "Through My Eyes," the soulful balled "If I Stay Too Long" and the majestic "Life Is Just Beginning." It's all madly infectious art-pop with the occasional psychedelic swirl. There are also covers of tunes like "Bonie Maronie," "Mercy Mercy Mercy" and "Cool Jerk." The band was produced by Shel Talmy, who helmed the early hits recorded by The Who and The Kinks. And you can hear similarities to both of those bands in The Creation. So why didn't these guys break through to stardom? They even had showmanship. Guitarist Eddie Phillips initiated the trick of running a violin bow across his strings, pre-Jimmy Page. The 46 tracks here include mono versions, new stereo mixes, and previously unreleased delights. To make this the definitive collection, you even get four tracks from the band's earlier incarnation, Mark Four. The Creation created a lot of fantastic music!
ERIC BIBB - "MIGRATION BLUES"
Eric Bibb, American born, resides in Sweden and records in France. He empathizes with those facing immigration trials and tribulations. He also understands the power of acoustic folk-blues and puts it to good use, singing for justice, brotherhood and equality. This is a timely set, given the current administration's door-slamming stance and the global animosity towards refugees. His heartfelt songs include "Brotherly Love," "We Had to Move," "Refugee Moan" and "Delta Getaway," which refers to those fleeing the Deep South in an earlier, more openly prejudiced era. Bibb also lends his expressive, impassioned voice to Woody Guthrie's "This Land Is Your Land" and Bob Dylan's "Masters of War." Growing up, family friends included Dylan, Joan Baez, Odetta and Pete Seeger. Paul Robeson, the singer and activist was Bibb's godfather. And Bibb's father, Leon Bibb, was a prominent performer in the 60s New York folk scene. We should all be grateful that Eric Bibb is continuing the family folk tradition.
CINDY LEE BERRYHILL - "THE ADVENTURIST"
Berryhill hasn't become a household word over the course of seven albums and 30 years. But she has created an impressive body of work. "The Adventurist," her first album in 10 years, proves again that she deserves far more attention. The singer-songwriter make music that is both accessible and original, as well as unwaveringly honest. Berryhill is inventive and intriguing in both her melodies and lyrics. And a measure of eccentricity makes it all that much more enticing. Among the mesmerizing tracks here are "American Cinematography," 'I Like Cats/You Like Dogs," "Horsepower," "Deep Sea Fishing," "Gravity Falls" and "An Affair of the Heart." Another under-appreciated and extraordinary singer-songwriter, Syd Straw, provides harmony vocals. There's a bittersweet quality to this album. Berryhill is still wrestling with the loss of her husband, Crawdaddy magazine founder Paul Williams. Nine years after being diagnosed with early onset dementia, he passed away in 2013. Now Berryhill has come back with an intricate, intimate, diverse album that touches the heart and tantalizes the mind.
"PAUL SHAFFER & THE WORLD'S MOST DANGEROUS BAND"
In the years Shaffer and the band backed countless music artists appearing on "The Late Show With David Letterman," they dazzled with not only their technical ability, but also their sense of fun and an amazing versatility. All of that is again in evidence on this highly entertaining new album. Shaffer, a walking encyclopedia of pop, has assembled a fabulous batch of diverse tunes. Shaggy joins the band for a celebratory opener, a complete reimagining of Vince Guaraldi's "Cast Your Fate to the Wind." Darius Rucker delivers a soul-searing vocal on "Why Can't We Live Together." Jenny Lewis makes "Sorrow" a poignant country music statement. In the 60s, that song was recorded by The McCoys and then The Merseybeats, who had a U.K. hit with it. In the 70s, it was covered by David Bowie. Bill Murray, playing it straight, serves up a carefree vocal on "Happy Street." One of the high points comes when Dion joins the band for Sam Cooke's "Win Your Love." The band's stalwarts also get their chances to shine. The combo gets cooking with the vintage Georgie Fame rouser "Yeh Yeh." Felicia Collins delivers a fervent "Some Kind of Wonderful" and duets with Valerie Simpson for the energizing Ashford & Simpson number "I Don't Need No Doctor." Will Lee is featured on the island-style treat "Enjoy the Ride." Shaffer himself is featured on the two terrific cuts that close this fine album - Lloyd Price's "Just Because" and Bob Dylan's "Wigwam." Shaffer and the band have certainly earned some time in the spotlight, instead of the background. And they deserve enthusiastic applause for this pleasing new release.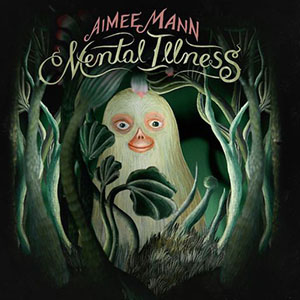 AIMEE MANN - "MENTAL ILLNESS"
Melancholy has rarely been as enticing as it is on the new Aimee Mann album. The singer-songwriter wends her way through elegantly crafted folk-pop songs, lending them sensitivity, vulnerability and empathy. Among the poignant, painful, but extraordinarily pretty songs are "Stuck in the Past," "You Never Loved Me" and "Good for Me." Mann reflects, with compassion, on the abandoned, the lonely, the forgotten, the damaged and self-destructive. She sings of a recovering alcoholic, crushing disappointments, shattered relationships, the dark side of Hollywood, and, yes, mental illness. The loveliness of the melodies often disarmingly contrasts with the bleakness of the lyrics. Yearning offsets the mournfulness. Intelligent and insightful, as well as introspective, this is sadness at its most sublime.
KAREN MASON - "IT'S ABOUT TIME"
The Broadway star definitely has the wow factor going in this new album. Mason's voice is incredibly powerful, but her performances are also sensitive and nuanced, demonstrating a keen awareness of dynamics. Here she tackles such showstoppers as "Everything's Coming Up Roses" and soars. She is equally effective in quieter moments, as in "What Are You Doing The Rest of Your Life?" Her combination of "Somewhere" and "Impossible Dream" is deeply moving. That's also true of her rendition of Bacharach & David's "A House Is Not a Home." And she imbues "I Can't Give You Anything But Love" with an earnest poignancy. "It's About Time," celebrating marriage equality, was written by Mason's husband, Paul Rolnick. Mason fearlessly sings three songs associated with the immortal Judy Garland - "Zing! When The Strings of My Heart," "The Man That Got Away" and yes, even "Over The Rainbow" - and makes you forget, just for a moment, that anyone else has ever recorded these tunes. Mason's vocals are that compelling.
FAY CLAASSEN - "LUCK CHILD"
The Dutch vocalist, whose previous albums include homages to Cole Porter and Chet Baker, offers a pleasing mix of older and newer tunes on this stunning new release. As a singer, Claassen is simultaneously cool and warm. It's a winning combination. She brings her own personality to familiar numbers like "God Bless The Child." Claassen makes the traditional "Oh Shenandoah" sound fresh and modern. Her version of Paul Simon's "One Trick Pony" is a zesty finger-snapper. The serene presentation of Lennon & McCartney's "Blackbird" will linger in your mind. And there's a wonderful wistfulness to her rendition of Duke Ellington's "In a Sentimental Mood." Claassen works wonders with Fred Hersch's jazz melody and Norma Winstone's inspirational lyrics on "Song of Life." Her phrasing and tone are impeccable throughout. But Claassen doesn't need words to move those listening. She's a virtuoso, using her voice as the primary instrument on "Fay" and Ennio Morricone's evocative "Cinema Pardiso." Listeners will consider themselves lucky indeed to experience what Claassen offers on the "Luck Child" album.
B.J. THOMAS - "NEW LOOKS FROM AN OLD LOVER: THE COMPLETE COLUMBIA SINGLES"
After his enduring Scepter smash singles in the 60s, B.J. Thomas focused his stirring voice on inspirational music. In the 80s, he returned to pop-country on the Columbia label. Real Gone has released a two-CD set of this satisfying section of Thomas' career. "The Complete Columbia Singles" includes two tracks that reached number one on the country charts - "New Looks From an Old Lover" and "Whatever Happened to Old-Fashioned Love." Other top tracks include "The Whole World's in Love When You're Lonely," Hank Cochran's weeper "Make The World Go Away" and Thomas' own "Beautiful World." He duets on "Rock 'n' Roll Shoes" with Ray Charles. One of the bonus tracks is the rare solo version of "As Long as We've Got Each Other," better known as the "Growing Pains" TV series theme. The other bonus is Thomas' moving rendition of "The Wind Beneath My Wings." The material from these years received less attention than his earlier work, but it deserves to be rediscovered. Thomas has one of the most genuinely affecting voices in pop history and he put it to good use on these songs.
GUY CLARK - "THE BEST OF THE DUALTONE YEARS"
On the indie Dualtone label, late in his career, Clark recorded some of his finest work. This double-album contains outstanding examples, such as "Magdalene," "Maybe I Can Paint Over That," "Hemingway's Whiskey" and "Rain in Durango." With little adornment, just simple, acoustic accompaniment, Clark's honest, gritty vocals and his profoundly moving songs make lasting impressions. A songwriter's songwriter, Clark's compositions have been recorded by such legends as Johnny Cash, Merle Haggard, Willie Nelson and Rodney Crowell, to name but a few. But the songs came from his soul and there's something special about hearing him sing them. Clark's down-to-earth poetry is startling in its engrossing storytelling and its ability to illuminate. Every listener can relate to even the most deeply personal and unflinchingly confessional of his lyrics. The one non-Clark composition here is "If I Needed You," penned by his self-destructive, equally gifted compadre, Townes Van Zandt. Several live tracks are included, including Clark's iconic "The Randall Knife," "Dublin Blues" and "L.A. Freeway," which was popularized by another buddy, Jerry Jeff Walker. Clark followers will cherish the previously unreleased demos that close this significant album.
BOBBY DARIN & JOHNNY MERCER - "TWO OF A KIND"
Omnivore has re-released this sensationally swingin' album, recorded in 1960. At the time the pair went into the studio, Darin was just 24, but he had already transitioned from novelty rockers and teen pop to sophisticated, Sinatra-style standards. Though it might have seemed unlikely at the time, the combination of Darin and Mercer, one of the all-time great lyricists, is a match made in heaven. As vocalists, they're both very cool and very rhythmic. The duo is dynamite. In addition to four Mercer compositions, including "If I Had My Druthers," they have a ball with other great tunes, including "Ace in the Hole" and "I Ain't Gonna Give Nobody None O' This Jelly Roll." There's plenty of banter between the two legends, as well as flashes of Darin's celebrity impressions, which all adds to the fun. They were obviously having a blast making the record, as listeners will, experiencing the album now. Arranger/conductor Billy May is the third key piece in this classic big band vocal album. This reissue includes seven previously unreleased tracks - five alternate takes and two songs left off the original album - the 20s number "Cecelia" and, from the British music hall tradition, "Lily of Laguna."
ORGANISSIMO - "B3TLES: A SOULFUL TRIBUTE TO THE FAB FOUR"
The latest album from Oganissimo brings a sizzling, soulful jazz tinge to Beatles classics. With organist extraordinaire Jim Alfredson on B3, Wurlitzer and synths taking the spotlight, augmented by the sterling support of guitarist Lawrence Barris and drummer Randy Marsh, the trio discovers tasty new twists in the Lennon/McCartney/Harrison oeuvre. The dozen performances here all delight. "Taxman," "Come Together" and "Dig a Pony" have an element of funk. "Dear Prudence," "If I Fell," "And I Love Her" and "The Long and Winding Road" are winsome. The eloquent guitar work on "While My Guitar Gently Weeps" will touch your heart. And there's an Eastern, spiritual swirl to "Within You and Without You." Imaginatively arranged and perfectly played, this threesome gives a whole new feel to the Fab Four.
EMERSON LAKE & PALMER - "ONCE UPON A TIME IN SOUTH AMERICA"
MVD Audio has just released a fabulous new two-disc vinyl edition of colossal ELP concert performances in Chile, Argentina and Brazil in 1993 and 1997. (A four-CD box set is also available) The prog-rock supergroup still maintained its vibrancy and musical power, more than 20 years after its initial launch. It's all here - the magnificence of Keith Emerson's keyboard wizardry, the earthiness of Greg Lake's vocals and bass-playing, and the formidable foundation provided by drummer/percussionist Carl Palmer. Of course, there are ELP classics, such as "Tarkus," "Lucky Man," "Knife Edge," "Pictures at an Exhibition" and "Fanfare for the Common Man." But there are added delights, such as an intense rendition of Lake's "21st Century Schizoid Man," from his King Crimson days, and Keith Emerson's tour de force interpretation of Leonard Bernstein's "West Side Story" anthem, 'America," which Emerson first ignited with his earlier band, The Nice. For live recordings from the time, the sound is excellent. And ELP's performances are phenomenal!
HARRY BELAFONTE - "WHEN COLORS COME TOGETHER"
RCA/Legacy is celebrating Belafonte's 90th birthday with a wonderful compilation album, personally curated by the artist. Born in Harlem to Jamaican parents, Belafonte shot to stardom in the 50s, when he was closely associated with the Calypso and sounds of the Caribbean. The album includes his joyful "Jump in the Line" and "Banana Boat (Day-O)," as well as the wistful "Jamaica Farewell" and "Brown Skin Girl." But the folk artist drew from a wide range of material, as he matured artistically. His beautiful voice wraps memorably around such ballads as "All My Trials" and "Mary's Boy Child." He gives one of the finest interpretations of the oft-recorded "Try to Remember," from "The Fantasticks." "On Top of Old Smokey" takes on a mellow, blues feel. Of course, Belafonte is also revered for his social and political activism. That's represented here with "Abraham, Martin and John" and "Those Three Are On My Mind," written by Pete Seeger and Frances Taylor about the 1964 murder of Mississippi civil right workers. The one new track is "When Colors Come Together (Our Island in the Sun)," a reimagining of the theme song co-written by Belafonte for the film "Island in the Sun," in which he starred. Here it's sung by a children's choir. The 19-song album closes with a live version of Woody Guthrie's "Pastures of Plenty," about migrant workers. Belafonte's music remains moving, relevant and vital.
KELLEY RYAN - "TELESCOPE"
On her new album "Telescope," singer/songwriter/multi-instrumentalist Kelley Ryan, with her intelligent, melodic work, enables listeners see life with a little more clarity. Ryan, whose songs have been heard on numerous TV shows, presents 10 new numbers, all treasures, on this album. Ryan's lyrics are enlightened, her melodies alluring. Top tracks here include "The Darkest Stars," "Pulling for Romeo," "Crack in the Sky" and "Real Gone Girl." Her voice is girlishly bewitching. Ryan has home recording studios in Palm Springs and Cork, Ireland. In addition to releasing albums under her own name, she has issued several as astroPuppees. By any appellation, "Telescope" proves again that Ryan is an eye-opening talent.

BOOKS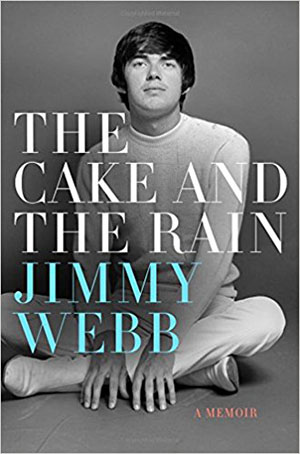 THE CAKE AND THE RAIN
By Jimmy Webb [St. Martin's Press]
Jimmy Webb has written such unforgettable songs as "MacArthur Park," "By The Time I Get to Phoenix," Wichita Lineman," "Up, Up and Away," "Galveston," "The Worst That Could Happen" and "All I Know." He also wrote "Tunesmith: Inside the Art of Songwriting." And if you only read one book about the craft, it should be that one. Now Webb has also penned a memoir. And it's as compelling as all of his other work. "The Cake and the Rain," a reference to the revered "MacArthur Park" lyric, proves to be both entertaining and enlightening. Webb reaches back for warm remembrances of his parents, shining a light on the Middle American family and religious values on which he was raised. But the Oklahoman focuses primarily on the frenzied, drug-fueled era of the late 60s and early 70s. The clean-cut lad who didn't smoke or drunk suddenly emerged with hair past his shoulders and an eagerness to share in the adventures - psychedelic and carnal - of the day. Webb recounts wild escapades involving such legends as Richard Harris, David Geffen, John Lennon and Harry Nilsson. Webb's colorful life brought him into contact with a myriad of superstars, including Elvis Presley, Glen Campbell, Paul McCartney, George Harrison, Joni Mitchell, Louis Armstrong and Frank Sinatra. You don't want to miss any of his anecdotes. Despite all the surrealistically crazy times, Webb survived and thrived. Sober since 2000, he has six children and a grandchild, and continues to write and perform. He's married to PBS presenter Laura Savini. His story is one you'll thoroughly enjoy experiencing. Webb's elegance as a lyricist is mirrored in his prose writing. The beauty and breadth of Webb's compositions is mind-boggling, as is the list of artists who have recorded them. This new book gives us far greater insight into this extraordinary man, now 70, whose genius resulted in songs that will live forever.
DIRECTOR'S CUT: MY LIFE IN FILM
By Ted Kotcheff, with Josh Young [ECW Press]
Ted Kotcheff's directing career has, for decades, displayed perceptiveness, inventiveness and elan. Those characteristics are in evidence in this entertaining memoir. Kotcheff is a charming and intelligent raconteur. And he has a wealth of memories from which to draw. The Canadian filmmaker began in live television in the 50s and he provides a strong sense of the excitement of the medium in that early era. He also offers insights into the social fabric of his native land. His left-leaning political views prevented him from working in the U.S., when he first began gaining recognition. So Kotcheff moved to London. Thus readers can share illuminating views of the burgeoning, rapidly changing U.K. theatre, television and film scenes of the 60s. Kotcheff's direction of "Life at the Top," the "Room at the Top" sequel, starring Laurence Harvey, Jean Simmons and Honor Blackman, helped to establish him as a big-screen creative force. "The Apprenticeship of Duddy Kravitz," marked by a brilliant Richard Dreyfuss performance, lifted Kotcheff even higher. It's one of the greatest Canadian films ever made. It was written by Mordecai Richler and Kotcheff's depiction of their deep and lasting friendship is moving. Kotcheff went on to direct some unforgettable Hollywood movies, including "Fun With Dick and Jane," "First Blood" (which thought-provokingly introduced audiences to the Rambo character), "North Dallas Forty" and "Weekend at Bernie's." In recent years, Kotcheff has helped to make "Law & Order: Special Victims Unit" a TV hit. (Mariska Hargitay wrote the book's foreword). Obviously, Kotcheff's body of work is remarkably diverse. Action, comedy, drama - he could do it all. And it's detailed here, including wonderful stories about his collaborations with Dreyfuss, James Mason, Sylvester Stallone, Nick Nolte, Jane Fonda, George Segal, Gregory Peck, Ingrid Bergman and other stars. His admiration for these talents warmly glows through the pages. His unhappy encounters are rare, but they, too, are memorable, including nasty behavior from Rex Harrison and Kirk Douglas. Kotcheff handles it all with wit and understanding. It's a behind-the-scenes look that stands front-and-center among film and TV autobiographies.
JAKE SHIMABUKURO TEACHES UKULELE LESSONS
By Jake Shimabukuro [Hal Leonard]
Innovative Hawaiian musical artist Jake Shimabukuro has worked wonders in expanding the public's perception of the ukulele. His virtuosity ignores genre boundaries to create fun and fantastic sounds. In this new course, he invites everyone to pick up the uke and learn to make music magic themselves. The book itself contains full transcriptions of many Shimabukuro favorites, including "Ukulele Five-Oh" and his unique version of George Harrison's "While My Guitar Gently Weeps." Included are online video lessons, which make learning easy. Shimabukuro charmingly explains in detail exactly how to play each number. Even beginners will soon be joyfully picking and strumming simpler songs like "Happy Birthday" and the national anthem. Soon the repertoire will grow exponentially. The videos can streamed or downloaded. It's a tremendous musical opportunity for all ages.
MY BRITISH INVASION
By Harold Bronson [Rare Bird Books, A Vireo Book]
Those of us who grew up on the 60s English bands, as well as discerning younger music buffs who are fascinated by the era, will find Harold Bronson's new book remarkably informative and highly entertaining. The fun facts begin as early as the preface. Did you know that the term "British Invasion" actually was coined months prior to The Beatles' arrival in the U.S., used to describe the influx of theatrical shows from London's West End to Broadway? Were you aware that Dick James, publisher of the early Fab Four songs, was the singer of the theme song for the 50s TV series "The Adventures of Robin Hood," starring Richard Greene? Bronson, co-founder of Rhino Records, recounts his days as a budding journalist at UCLA, pitching articles to Rolling Stone and other nascent publications. His descriptions of his life, the concerts he attended, the rock artists he encountered, give the book a very personal touch. The biggest treat for British Invasion band aficionados are the detailed chapters on The Dave Clark 5, Herman's Hermits, The Kinks, The Zombies, The Spencer Davis Group, The Yardbirds, Manfred Mann, The Hollies and The Troggs. Bronson also takes readers into the 70s, recounting great episodes with Marc Bolan, Status Quo and Mike Chapman. And he explores the adventures of Pirate Radio. Throughout, Bronson's passion for the music is evident… and it's contagious.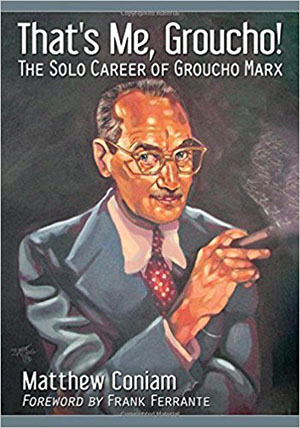 "THAT'S ME, GROUCHO! - THE SOLO CAREER OF GROUCHO MARX
By Matthew Coniam; foreword by Frank Ferrante [McFarland; www.mcfarlandpub.com; order line (800) 253-2187]
The secret word is "complex." We don't need a duck with glasses, mustache and cigar to drop from the ceiling and tell us that Grouch Marx was a comedy genius. But there is much about this eminently witty fellow that's not so well known. This new book, by British author Matthew Coniam, offers a multitude of fascinating insights and revelations. Much has been written about the early film work of the Marx Brothers (Coniam also wrote "The Annnotated Marx Brothers), but shamefully little about Groucho's solo work in theatre, films, television, radio and concert halls. This amazingly detailed book fills the void admirably. Coniam serves up interesting details about Groucho's projects, successes and failures, as well as the man behind the mustache. There's Groucho the fantasy figure, Groucho the performer, but there's also Julius, the real human being often lost behind the radiance of the character. Though held in high regard by peers and the public, Marx remained insecure. After all, he said, "I don't care to belong to any club that will have me as a member." His reach would often exceed his grasp. And his family relationships were complicated, to be sure. But he stands as one of the greatest comedic minds of the 20th century. Coniam provides engaging tidbits involving those whose career paths intersected with Groucho at various points, including Carmen Miranda, Frank Sinatra, Mervyn LeRoy and Howard Hughes. And quotes of Groucho quips will bring chuckles throughout the read. We thought we knew Groucho from his many years hosting the quiz show "You Bet Your Life," but as to who the man really was, well, that's a conundrum wrapped in an enigma. But Coniam's extraordinarily well-researched book goes a long ways towards unwrapping the riddle. The valuable appendices include Noah Diamond's amusing account of the evolution of Groucho's mustache and Jay Hopkins' interview segments with Marx's sometimes co-writer/long-time friend Nat Perrin, "You Bet Your Life" producer John Guedel, and Erin Fleming, who was Groucho's youthful companion/manager in his waning years.